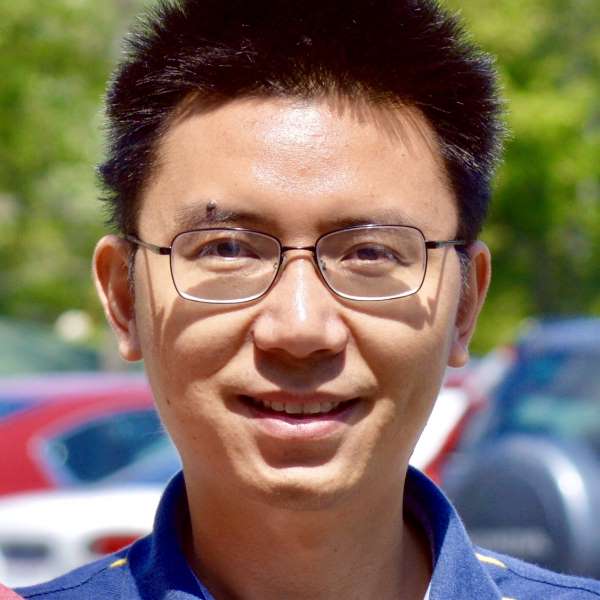 Associate Professor
Contact
Center for Translational Cancer Research
2121 W. Holcombe Blvd.
Houston , TX 77030
yubinzhou@tamu.edu
Phone: 713.677.7483
Fax: 713.677.7779
Zhou Lab

Education and Training
Bachelor of Medicine (M.D. Equivalent), Zhejiang University School of Medicine, 2003
M.S. Chemistry, Georgia State University, 2007
Ph.D. Biochemistry, Georgia State University, 2008

Clinical Internship, the Second Affiliated Hospital, Zhejiang University, 2000-2003
Research Fellow, Immune Disease Institute, Harvard Medical School 2008-2010
Instructor, La Jolla Institute for Allergy and Immunology, 2010-2012
Research Interests
The Zhou Lab at Texas A&M pioneers chemical and synthetic biology approaches to address challenges in health and disease. We work at the interface of biology and chemistry with focuses on synthetic immunology, optogenetics, calcium signaling, epigenetics, and immunotherapy research. We are particularly interested in (i) discovering novel ion channels that govern intracellular calcium homeostasis and T cell activity; (ii) devising widely-applicable optical and chemical actuators for remote control of cell signaling and physiology; and (iii) developing innovative theranostic devices, photopharmacological tools, programmable biologics, and intelligent cell-based therapies for cancer (lymphoma, glioblastoma, and melanoma) and neurodegeneration intervention (8 patent applications). The tight integration among mechanistic studies, biomedical engineering, and translational sciences is a hallmark of our research. See highlights in: "Let there be light" (Scientia); "Optogenetics sparks new research tool" (NIH Biomedical Beat).
Selected Publications
Original articles (out of 130+ papers; 13,000+ citations)
Nguyen NT, Huang K, Zeng H, Jing J, Wang R, Fang S, Chen J, Liu X, Huang Z, You JM, Rao A, Huang Y, Han G, Zhou Y#. Nano-optogenetic engineering of CAR T-cells for precision immunotherapy with enhanced safety. Nature Nanotechnology. 2021,16(12):1424-34 (PMID: 34697491) *Featured in STAT news and highlighted by Nature Bioengineering Community BLOG.
He L, Tan P, Zhu L, Huang K, Nguyen NT, Wang R, Guo L, Li L, Yang Y, Huang Z, Huang Y, Han G, Wang J and Zhou Y#. Circularly permuted LOV2 as a modular domain for optogenetic engineering. Nature Chemical Biology. 2021,17(8):915-23. (PMID: 33958793). *Highlighted by Optics and Photonics News; *Featured in Nature portfolio – chemical tools collection
He L, Wang L, Zeng H, Tan P, Ma G, Zheng S, Li Y, Sun L, Dou F, Siwko S, Huang Y, Wang Y, and Zhou Y#. Engineering of a bona fide light-operated calcium channel. Nature Communications. 2021,12:164 (PMID: 33431868). *Featured by Nature series Editor's Highlight "Biotechnology and methods"; Highlighted in Commentary by Cell Calcium: "Blue light opens the ORAI LOC(K)".
Wang T, He L, Jing J, Lan TH, Hong T, Wang F, Huang Y, Ma G, and Zhou Y#. Caffeine-operated synthetic modules for chemogenetic control of protein activities by life style. Advanced Science. (IF: 16) 2021,8(3),2002148. (PMID: 33552855) *Featured as a Cover Article; *Reported by KBTX NEWS; Featured in Vital Record.
Ma G, He L, Liu S, Xie J, Huang Z, Jing J, Lee, YT, Wang R, Luo H, Han W, Huang Y and Zhou Y#. Optogenetic engineering to probe the molecular choreography of STIM1-mediated cell signaling. Nature Communications. 2020,11(1):1039. (PMID: 32098964) *Highlighted in Commentaryby Cell Calcium: "Natural photoswitches exposes STIM1 activation steps"
Jing J, He L, Sun A, Quintana A, Ding Y, Ma G, Tan P, Liang X, Zheng X, Chen L, Zhang SL, Shi X, Zhong L, Huang Y, Dong MQ, Walker CL, Hogan PG, Wang Y, and Zhou Y#. Proteomic mapping of ER-PM junctions identifies STIMATE as a novel regulator of Ca2+ influx. Nature Cell Biology. 2015,17(10):1339-47. (PMID: 26322679). *Featured in NCB "News and Views".
Ma G, Wei M, He L, Liu C, Wu B, Zhang SL, Jing J, Liang X, Senes A, Tan P, Li S, Sun A, Bi Y, Zhong L, Si H, Shen Y, Lee MS, Zhou W, Wang J, Wang Y, and Zhou Y#. Inside-out Ca2+ signaling prompted by STIM1 conformational switch. Nature Communications. 2015,6:7826. (PMID: 26184105) *Featured in eBioTrade as Highlighted News.
He L, Zhang Y, Ma G, Tan P, Li Z, Zang S, Wu X, Jing J, Fang S, Zhou L, Wang Y, Huang Y, Han G, and Zhou Y#. Near Infrared photoactivatable control of Ca2+ signaling and optogenetic immunomodulation. eLife. 2015,pii:e10024. (PMID: 26646180). *Highlighted in BiophotonicsMagazine; Optics & Photonics News; ALN Magazine; The Battalion; Vital Records and Immuno-Oncology News.
Zhou Y, Srinivasan P, Razavi S, Seymour S, Meraner P, Stathopulos PB, Ikura M, Rao A, Hogan PG. Initial activation of STIM1, the regulator of store-operated calcium entry. Nature Structural & Molecular Biology. 2013,20(8):973-81. (PMID: 23851458). *Featured in NSMB "News and Views.
Zhou Y, Meraner P, Kwon, HT, Machnes D, Oh-hora Masatsugu, Zimmer Jochen, Huang Y, Stura A, Rao A and Hogan PG. STIM1 gates the store-operated calcium channel ORAI1 in vitro. Nature Structural & Molecular Biology. 2010,17(1):112-116. (PMID: 20037597). *Highlighted on the cover of NSMB; "Featured Article" on Nature Signaling Gateway; Rated as "Must Read" by Faculty 1000.
 
REVIEWS & PERSPECTIVES 
 Full list available here.
Citations available here.