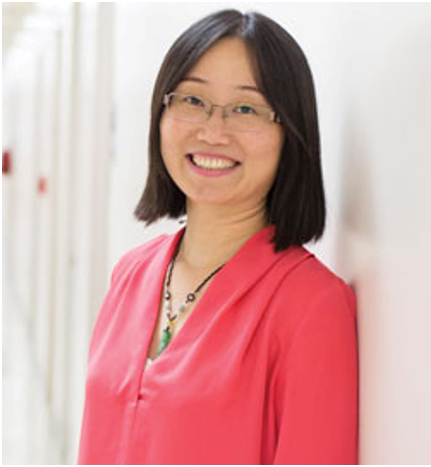 Yun (Nancy) Huang
Associate Professor
Center for Epigenetics & Disease Prevention
2121 W. Holcombe Blvd.
Houston
,
TX
77030-3303
Education and Training
2003    Bachelor of Medicine (M.D. Equivalent),
              Zhejiang University, School of Medicine

2008    Ph.D. & M.S., Biochemistry, Georgia State University,
              Atlanta, GA

2009    Research Fellow, Immune Disease Institute,
              Harvard Medical School, Boston, MA
              Program in Cellular and Molecular Medicine at
              Children's Hospital Boston

2010    Research Fellow, La Jolla Institute for Allergy and
              Immunology, La Jolla, CA
Research Interests
Disruption of the fine balance between DNA methylation and demethylation can cause aberrant transcriptional outputs, increased genome instability, and 3D genome disorganization, which is frequently observed in human diseases. Dr. Huang 's research interests are directed towards understanding how DNA methylation homeostasis is maintained in human and other mammals; how aberrant DNA methylation modifications contribute to developmental defects, metabolic disorders and oncogenesis. My research goals are to:
(1) Define the dynamic changes of DNA methylation modifications (DNA methylome and hydroxymethylome) and their correlation with genome organization and gene transcription;
(2) Understand how additional regulators (including co-existing mutations, inflammation, microbiota, and metabolites) promote the malignant transformation of blood cells with epigenetic defects;
(3) Develop innovative single-cell epigenome analysis and epigenome-editing tools to probe how aberrant DNA modifications contribute to developmental defects and leukemogenesis.
Dr. Huang has significantly contributed to the characterization of the biological roles of Ten-eleven Translocation (TET) enzymes in heath and disease. Dr. Huang also pioneered the use of innovative methods to probe the "sixth DNA base", 5-hydroxymethylcytosine (5hmC), in the human genome and was among the first to map the hydroxylmethylome in embryonic stem cells. Her studies resulted in over 90 peer-reviewed publications in top-notch scientific journals and over 7,300 citations (H index = 32). She was recruited to the Institute of Biosciences and Technology at Texas A&M University as a CPRIT scholar in 2014. She was featured as "Scientist to Watch" by the Scientist magazine. She also sits in the editorial board of the Blood journal. She was the recipient of multiple awards including the Leukemia & Lymphoma Society Fellow Award, the Rising Star Award from The American Medical Professional Foundation, The John S. Dunn Foundation Collaborative Research Award, The Cancer Fighter of Houston Foundation Award, and the Research Excellence Award from Texas A&M University. Her ongoing researches are supported by multiple grants from federal, state and private foundations.
SELECTED PUBLICATIONS (Total 82 publication, >7,200 citation, H index = 32)
Ma G, He L, Liu S, Xie J, Huang Z, Jing J, Lee Y, Wang R, Luo H, Han W, Huang Y#, Zhou Y#. Optogenetic engineering to probe the molecular choreography of STIM1-mediated cell signaling. Nature Communications. 2020 Accepted. (# Co-corresponding authors)
Guo L, Li J, Zeng H, Guzman A, Li T, Lee M, Zhou Y, Goodell M, Stephan C, Davies P, Dawson M, Sun D, Huang Y. A combination strategy targeting enhancer plasticity exerts synergistic lethality against BETi-resistant leukemia cells. Nature Communications. 2020 Feb 6;11(1):740. doi: 10.1038/s41467-020-14604-6. (PMID: 32029739)
Haruehanroengra P, Zheng YY, Zhou Y, Huang Y, Sheng J. RNA Modifications and Cancer. RNA Biol. 2020 Jan 29. doi: 10.1080/15476286.2020.1722449. (PMID: 31994439)
King K, Huang, Y, Nakada D, Goodell M. Environmental Influences on Clonal Hematopoiesis. Experimental Hematology, 2019 Dec 29. pii: S0301-472X(19)31240-8. doi: 10.1016/j.exphem.2019.12.005. (PMID: 31893524)
Zeng H, He H, Guo L, Li J, Lee M, Han W, Guzman A, Zang S, Zhou Y, Zhang X, Goodell M, King K, Sun D, Huang Y. Antibiotic treatment ameliorates Ten-eleven Translocation 2 (TET2) loss-of-function associated hematological malignancies. Cancer Letter, 2019 Dec 28;467:1-8. doi: 10.1016/j.canlet.2019.09.013 (PMID: 31563562)
Fang S, Li J, Xiao Y, Lee M, Guo L, Han W, Li T, Hill M, Hong T, Mo W, Xu R, Zhang P, Wang F, Chang J, Zhou Y, Sun D, Martin J, Huang Y. Tet inactivation disrupts YY1 binding and long-range chromatin interactions during embryonic heart development. Nature Communications, 2019 Sep 20;10(1):4297. (PMID: 31541101)
Zhang J, Tan P, Guo L, Gong J, Ma J, Li J, Lee M, Fang S, Johnson G, Sun D, Cao W, Dashwood R, Han L, Zhou Y, Dong W, Huang Y. p53-dependent autophagic degradation of TET2 modulates cancer therapeutic resistance. Oncogene, 2019 Mar;38(11):1905-1919. (PMID: 30390073)
Yang J, Horton JR, Wang D, Ren R, Li J, Sun D, Huang Y, Zhang X, Blumenthal RM, Cheng X. Structural basis for effects of CpA modifications on C/EBPβ binding of DNA. Nucleic Acids Research, 2018 Dec 19. doi: 10.1093/nar/gky1264 (PMID: 30566668)
Ma G, Zhang Q, He L, Liu S, Huang Y, Zhou Y. Genetically encoded tags for real time dissection of protein assembly in living cells. Chemical Science. 2018,9:5551-5. (PMID: 30061986)
Gu T, Lin X, Cullen S, Luo M, Jeong M, Estecio M, Shen J, Hardikar S, Sun D, Su J, Rux D, Guzman A, Lee M, Qi L, Chen J, Kyba M, Huang Y, Chen T, Li W, Goodell M. DNMT3A and TET1 cooperate to regulate promoter epigenetic landscapes in mouse embryonic stem cells. Genome Biology, 2018 Jul 12;19(1): 88 (PMID: 30001199)
Li J, Wu X, Zhou Y, Lee M, Guo L, Han W, Mo W, Cao WM, Sun D, Xie R, Huang Y. Decoding the dynamic DNA methylation and hydroxymethylation landscapes in endodermal lineage intermediates during pancreatic differentiation of hESC. Nucleic Acids Research. 2018 Jan 31. doi: 10.1093/nar/gky063. (PMID: 29394393)
Zang S, Li J, Yang H, Zeng H, Han W, Zhang J, Lee M, Moczygemba M, Isgandarova S, Yang Y, Zhou Y, Rao A, You MJ, Sun D, Huang Y. Mutations in 5-methylcytosine oxidase TET2 and RhoA cooperatively disrupt T cell homeostasis. The Journal of Clinical Investigation. 2017 Jul 10. pii: 92026. (PMID: 28691928)
He L, Jing J, Zhu L, Tan P, Ma G, Zhang Q, Nguyen NT, Wang J, Zhou Y, Huang Y. Optical control of membrane tethering and interorganellar communication at nanoscales. Chemical Science. 2017 Aug 1;8(8):5275-5281. doi: 10.1039/c7sc01115f. Epub 2017 May 31. (PMID: 28959426)
Lee M, Li J, Liang Y, Ma G, Zhang J, He L, Liu Y, Li Q, Li M, Sun D, Zhou Y, Huang Y. Engineered Split-TET2 Enzyme for Inducible Epigenetic Remodeling. J Am Chem Soc. 2017 Apr 5;139(13):4659-4662 doi: 10.1021/jacs.7b01459. (PMID: 28294608)
Basanta-Sanchez M, Wang R, Liu Z, Ye X, Agris P, Li M, Shi X, Agris P, Zhou Y, Huang Y# and Sheng J#. TET1-mediated oxidation of 5-formylcytosine (5fC) to 5-carboxycytosine (5caC) in RNA. ChemBioChem, 2017 doi: 10.1002/cbic.201600328 (#: corresponding authors) (PMID: 27805801)
SELECTED PUBLICATIONS BEFORE AN INDEPENDENT FACULTY
Etchegaray JP, Chavez L*, Huang Y*, Ross KN, Choi J, Martinez-Pastor B, Walsh RM, Sommer CA, Lienhard M, Gladden A, Kugel S, Silberman DM, Ramaswamy S, Mostoslavsky G, Hochedlinger K, Goren A, Rao A, Mostoslavsky R. The histone deacetylase Sirt6 controls embryonic stem cell fate via Tet-mediated production of 5-hydroxymethylcytosine. Nature Cell Biology, 2015 (* equal contribution, PMID: 25915124).
Huang Y, Chavez L, Xing C, Wang X, Pastor WA, Kang J, Zepeda-Martínez JA, Pape UJ, Jacobsen SE, Peters B, Rao A. Distinct roles of the methylcytosine oxidases Tet1 and Tet2 in mouse embryonic stem cells. Proc Natl Acad Sci U S A. 2014 (PMID: 24474761)
Chavez L*, Huang Y*, Luong K, Agarwal S, Iyer LM, Pastor WA, Hench VK, Frazier-Bowers SA, Korol E, Liu S, Tahiliani M, Wang Y, Clark TA, Korlach J, Pukkila PJ, Aravind L, Rao A. Simultaneous sequencing of oxidized methylcytosines produced by TET/JBP proteins in Coprinopsis cinerea. Proc Natl Acad Sci U S A. 2014 (*equal contribution, PMID: 25406324)
Huang Y, Rao A. Connections between TET proteins and aberrant DNA modification in cancer. Trends in Genetics. 2014 (PMID: 25132561)
Jeong M*, Sun D*, Luo M*, Huang Y, Challen GA, Rodriguez B, Zhang X, Chavez L, Wang H, Hannah R, Kim SB, Yang L, Ko M, Chen R, Göttgens B, Lee JS, Gunaratne P, Godley LA, Darlington GJ, Rao A, Li W, Goodell MA. Large conserved domains of low DNA methylation maintained by 5-hydroxymethyl-cytosine and Dnmt3a. Nature Genetics. 2014 (* equal contribution, PMID: 24270360)
Lister R, Mukamel EA, Nery JR, Urich M, Puddifoot CA, Johnson N, Lucero J, Huang Y, Dwork AJ, Schultz MD, Yu M, Tonti-Filippini J, Heyn H, Hu S, Wu JC, Rao A, Esteller M, He C, Haghighi FG, Sejnowski TJ, Behrens MM, Ecker JR. Global epigenomic reconfiguration during mammalian brain development. Science. 2013 (PMID: 23828890)
Huang Y, Rao A. New functions for DNA modifications by TET-JBP. Nat Struct Mol Biol. 2012 (PMID: 23132381)
Vincent JJ, Huang Y, Chen PY, Feng S, Calvopiña JH, Nee K, Lee SA, Le T, Yoon AJ, Faull K, Fan G, Rao A, Jacobsen SE, Pellegrini M, Clark AT. Stage-Specific Roles for Tet1 and Tet2 in DNA Demethylation in Primordial Germ Cells. Cell Stem Cell. 2013 (PMID: 23415914)
Huang Y, Pastor WA, Zepeda-Martinez A. J, Anjana Rao. The anti-CMS method for genome-wide mapping of 5-hydroxymethylcytosine. Nature Protocols. 2012 (PMID: 23018194)
Pastor WA*, Pape UJ*, Huang Y*, Henderson HR, Lister R, Ko M, McLoughlin EM, Brudno Y, Mahapatra S, Kapranov P, Tahiliani M, Daley GQ, Liu XS, Ecker JR, Milos PM, Agarwal S, Rao A. Genome-wide mapping of 5-hydroxymethylcytosine in embryonic stem cells. Nature. 2011 (*equal contribution; PMID: 21552279) [cited over 700 times]
Ko M*, Huang Y*, Jankowska AM,  Pape UJ, Tahiliani M, Bandukwala HS, An J, Lamperti ED, Koh KP, Ganetzky R, Liu XS, Aravind L, Agarwal S, Maciejewski JP, Rao A. Impaired hydroxylation of 5-methylcytosine in myeloid cancers with mutant TET2. Nature. 2010 (*equal contribution) (PMID: 21057493) [cited over 1000 times]
Huang Y*, Pastor WA*, Shen Y, Tahiliani M, Liu DR, Rao A. The behavior of 5-hydroxymethylcytosine in bisulfite sequencing. PLoS One. 2010 (*equal contribution; PMID: 20126651) [cited over 600 times]
 For complete list of publication, please visit:
https://www.ncbi.nlm.nih.gov/myncbi/1hgYdihn5DQQA/bibliography/public/