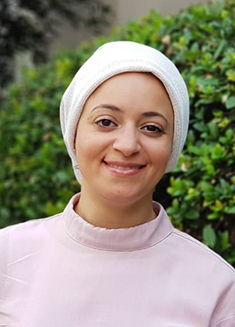 Razan Fakieh
Graduate Student
Center for Translational Cancer Research
2121 W. Holcombe Blvd, Suite 916
Houston
,
TX
77030
Education and Training
Arabian Gulf University, Bahrain
M.S., Medical Biotechnology
King Abdul-Aziz University, Saudi Arabia
B.S., Biochemistry
Research Interests
My project focuses on MIG-15, a member of the STE20 family of MAP4 kinases. In VPC fate pattering, the MIG-15 paralog, GCK-2, function downstream of RAL-1 and upstream of PMK-1/p38 in the Ras-dependent secondary-promoting signal (Shin et al, 2018). MIG-15 appears to oppose both primary and secondary VPC fates, suggesting that MIG-15 mediates a tertiary fate signal. I am investigating the MIG-15 signal and its role in the VPC patterning signaling network.