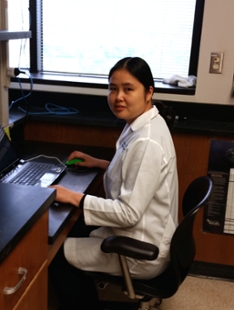 Ping Gao
Visiting Scholar
Center for Translational Cancer Research
2121 W. Holcombe Blvd, Suite 823
Houston
,
TX
77030
Education and Training
WuHan University, China
Ph.D., 2005
WuHan University, China
M.S., 2002
WuHan University, China
B.S., 2001
Memberships
Committee member Of HuBei Kidney Branch, Chinese Medical Association
Recent Publications
Ping Gao, Xiaoyan Wu, Hua Shui, Ruhan Jia. Fluvastatin inhibits angiotensin II-induced nuclear factor kappa B activation in renal tubular epithelial cells through the p38 MAPK pathway. Mol Biol Rep. 2012 Apr; 39(4):4719-25.
Ping Gao, Ruhan Jia, Ding-ping Yang, Hongyan Liu, Enfeng Song, Guili Chu,  Guohua Ding. Renoprotective effect of combining angiotensin II receptor blockers and statins in diabetic rats. Chinese Medical Journal, 2005, 118(7):598-602.
Ping Gao, Ruhan Jia, Guohua Ding. Effect of fluvastatin on activation of nuclear factor kappaB induced by angiotensin Ⅱ in rat kidney tubule epithelial cells. (poster presentation at the 37th annual meeting of American Society of Nephrology, 2004)
Ping Gao, Ruhan Jia, Xueyu wang. Irbesartan inhibitis nuclear factor-kappaa B activation in the kidney with type 2 diabetes. Nephrology Dialysis Transplantation, 2003, 18 (Suppl 4): 50.
Ping Gao, Ying Liu, Mei Lin. Effects of 1, 25-(OH)2D3 on the expression of vitamin D receptor and angiotensin II in human proximal tubular epithelial cells induced by high glucose. Chinese Journal of Diabetes, 2013,5(8) (published  in Chinese)
Ping Gao, Xiaoyan Wu, Hua Shui, Tao Yao. Effects of fluvastatin on epithelial-to-Mmesenchymal Transition in human proximal tubular epithelial cells induced by advanced oxidation protein products. Chinese Journal of Integrated Traditional and Western Nephrology, 2011, 12(1):16-19. (published  in Chinese)
Ping Gao, Ruhan Jia. Effect of fluvastalin on activation of nuclear factor kappa B induced by angiotensinⅡin rat kidney tubular epithefial cells. Chinese Journal of Nephrology, 2009, 25(2):134-138. (published in Chinese)
Ping Gao, Ruhan Jia. Effects of Fluvastatin on activation of renal nuclear factor-kappa B in experimental type 2 diabetic rat. Chinese Journal of Integrated Traditional and Western Nephrology, 2009, 10(1):15-17. (published in Chinese)
Ping Gao, Ruhan Jia. Effects of angiotensinⅡon p38 MAPK pathway in renal tubular epithelial cells. Chinese Journal of Nephrology, 2007, 23(1):55-56. (published in Chinese)
Ping Gao, Ruhan Jia. Establishment of Rat Model of Type 2 Diabetic Nephropathy. Chinese Journal of Integrated Traditional and Western Nephrology, 2007, 8(6):316-319. (published in Chinese)
Ping Gao, Ruhan Jia. Effects of fluvastatin, valsartan and the combination of both on the tubulointerstitium injury in diabetic rats. Chinese Journal of Nephrology, 2004, 20(3):218-219. (published in Chinese)
Ping Gao, Ruhan Jia. Effect of fluvastatin on the tubulointerstitium in progressive diabetic kidney disease. Chinese Journal of Geriatrics, 2004, 11: 605-608. (published in Chinese)
Ping Gao, Ruhan Jia. Effect of irbesartan on activation of renal nuclear factor-kappa B in experimental type 2 diabetic rat. Chinese Journal of Nephrology, 2002, 18(5):364-368. (published in Chinese)
Ling Yang, Ping Gao. Effects of Akt signal pathway on the expression of NF-κB in renal tubular epithelial cells. Chinese Journal of Emergency Medicine, 2011, 20(2):173-176. (published in Chinese)
Hua Shui, Ping Gao. Effects of mycophenolic add on the expression of MCP-1 and p38MAPK of tubular cells induced by albumin in vitro. Chinese Journal of Nephrology, 2008, 24(12):922-923. (published in Chinese)
Hua Shui, Qun Wang, Ping Gao. Effect of p38MAPK signal transduction pathway on montocyte chemoat tractant protein-1 expression in rats with unilateral ureteral obstruction, 2008,17(10):1050-1054. (published in Chinese)