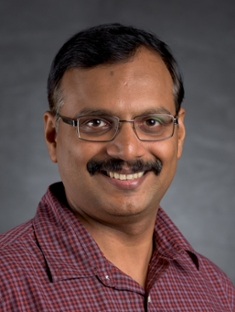 Praveen Rajendran , Ph.D.
Associate Professor
Director, Antibody and Biotherapeutics Core
Office: Room 416 / Lab: Room 413
Center for Epigenetics and Disease Prevention 
Institute of Biosciences & Technology
Texas A&M University Health Science Center
2121 W. Holcombe Blvd, Houston, TX 77030
Email:  prajendran@tamu.edu
Phone: 713-677-7803 (office) 
Faculty Bio
Education and Training
1994    Bachelor of Pharmacy (B.Pharm),
            Birla Institute of Technology & Science,
            Pilani, India

2006    Ph.D., Pharmacology,
            Birla Institute of Technology & Science,
            Pilani, India

1998    Post Graduate Diploma in Business (MBA equivalent),
            IMT-G
            Ghaziabad, India

2013    Postdoctoral Research Associate
            Linus Pauling Institute, Oregon State University
            Corvallis, Oregon
Research Interests
Dr. Rajendran has a broad background in pharmacology with over 20 years of experience and a proven record of accomplishment in cancer chemoprevention, preclinical research, drug discovery & development.  His research relates to identifying novel epigenetic approaches to the treatment and prevention of colorectal cancer, where most therapeutic options are woefully ineffective. He identified turnover of histone deacetylases (HDACs) triggering protein acetylation as a novel mechanism for cancer chemoprevention by dietary isothiocyanates.  His lab routinely employs both cell-based and rodent animal models that made it possible to conduct clinical trials with dietary isothiocyanates, such as sulforaphane. 
In addition, he serves as the primary investigator in studies that test the hypothesis that isothiocyanates exploit HDAC turnover pathways, faulty DNA repair mechanisms, and genomic instability in cancer cells, leading to chemo-sensitization and the potential for enhanced cancer therapy.
His expertise in working with NSAID-like drugs and dietary compounds combined with knowledge of histone and non-histone protein acetylation has resulted in collaborative efforts with GI clinicians at MD Anderson Cancer Center, DNA repair scientists at Methodist, proteomics experts at Baylor College of Medicine, plant circadian specialists at Rice University, and pharmacokinetic experts at the University of Houston.
Praveen recently assumed leadership of the Antibody & Biopharmaceutics Core (ABC), a brand new service center focused on antibody engineering.  As ABC Director, Praveen supports and advances the research mission of the IBT, maximize return on investment, and promote 'Team Science' at all levels. For more details, see https://ibt.tamu.edu/cores/abcore/index.html