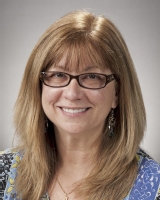 Robin Fuchs-Young
Professor
Center for Epigenetics & Disease Prevention
2121 W. Holcombe Blvd.
Houston
,
TX
77030-3303
Education and Training
Robin Fuchs-Young is a Professor in the Department of Molecular and Cellular Medicine and the Institute for Biosciences and Technology.  She received her B.S. in Biology from Emory University at Atlanta in 1978 and her Ph.D. degree in Pathology from Vanderbilt University in 1988.  She did her postdoctoral work at the Ben May Institute at the University of Chicago, with Dr. Geoffrey Greene.  Following her postdoctoral training, Dr. Fuchs-Young spent four years at Eli Lily and Company, where she was part of the preclinical development team for Raloxifene (Evista). She then joined the Department of Carcinogenesis at The University of Texas M.D. Anderson Cancer Center as an Assistant Professor in 1996 rising to the rank of Professor.  Dr. Fuchs-Young joined the faculty at Texas A&M University Health Science Center in early 2012.
Outreach & Education Activities
Since 1999, Dr. Fuchs-Young has directed an extensive and externally funded outreach and education program that provides health-promotion/disease-prevention information for a variety of audiences, through a series of integrated activities. The broad range of our programs can generally be organized into those related to: 1) Community engagement and environmental justice efforts aimed at prevention of environmental diseases, including cancer, 2) Enhancement of K-12 education through professional and career development for teachers and students, 3) Educational programs for opinion leaders and policy makers. The scope of this program includes recruitment of and training and mentorship for the next generation of scientists, technologists and health care professionals, and includes a focus on underrepresented minorities in science.  As part of these efforts, the program has developed and disseminated informative and educational materials for communities, provided research internships and field experiences for undergraduates and high school students, sponsored professional development and in-service teacher training programs for K-12 educators, created websites to disseminate online educational materials and provided science and technology education and career development for K-16 
Research Interests
The Fuchs-Young laboratory studies the basic mechanisms of breast carcinogenesis, including the interaction (cross-talk) between the estrogen receptor alpha (ERa), IGF-1 and p53 signaling cascades. Our research utilizes a variety of unique in vivo and in vitro models, including transgenic and humanized mice. An underlying theme of our research is the discovery of bio-physiological determinants of disparities in breast cancer incidence and outcome.
One of our projects utilizes the BK5.IGF-1 transgenic mouse model, in which IGF-1 expression is directed to the K5+ myoepithelial cells, and thus mimics the paracrine effects of stromal IGF-1 on mammary ductal epithlelium. This is one of the few mammary cancer models in which tumors express functional estrogen receptor, and it is therefore a useful model for studying cross talk between the ERa and IGF-1 signaling systems.  Studies with this model have identified a developmentally controlled "pathway switch" that determines the effects of IGF-1 on mammary development and tumor susceptibility. These results have implications for human breast cancer, and suggest that elevated tissue levels, in addition to circulating levels of IGF-1, are critical in determining tumorigenesis and that early, prepubertal exposures maybe important in mediating lifetime susceptibility.
Another project focuses on the interdependent regulation of ERa and p53, and the role of racially disproportionate p53 polymorphisms in mediating breast cancer development and progression. Our studies have revealed that p53 regulates ERa expression at both the message and the protein levels. These results provide insight into one of the mechanisms by which ER–/p53 null tumors develop, and indicate that expression of ERa in tumors, an important indicator of prognosis and response to therapy, is determined by when and if p53 is lost during tumorigenesis.  Studies of racially disproportionate p53 polymorphisms utilize a novel, "humanized" mouse model. These investigations are focused on evaluating the role of these variants in mediating reduced pregnancy protection, and increased risk of aggressive, premenopausal cancers with poor prognosis, in minority women.
A new project in the laboratory project is focused on investigating the impact of exposure to metabolic syndrome during different stages of development on metabolic function and mammary cancer risk. This line of research was initiated, in part, due to the obesity epidemic in the US, and the increasing prevalence of obesity in younger children.
Selected Publications
de Ostrovich, K.K., Lambertz, I., Colby, J., Tian, J., Rundhaug, J., Johnston, D., Conti, C.J., DiGiovanni, J., andFuchs-Young, R. (2008) Paracrine overexpression of IGF-1 enhances mammary tumorigenesis in vivo, Am.J.Path.173(3): 824-834.
Shirley, S.H., Rundhaug, J.E., Tian, J., Cullinan-Ammann, N., Lambertz, I., Conti, C.J., and Fuchs-Young, R. (2009) Transcriptional regulation of estrogen receptor-alpha by p53 in human breast cancer cells. Cancer Res. 69(8): 3405-3414.  2009 Apr 7. [Epub ahead of print]
Sullivan, J., Parras, B., St Marie, R., Subra, W., Petronella, S., Gorenstein, J., Fuchs-Young,R., Santa, R.K., Chavarria, A., Ward, J., and Diamond, P. (2009) Public talks and science listens: a community-based participatory approach to characterizing environmental health risk perceptions and assessing recovery needs in the wake of hurricanes katrina and rita. Environ Health Insights. 3: 37-51.
Colbert, L.H., Westerlind, K.C., Perkins, S.N., Haines, D.C., Berrigan, D., Donehower, L.A., Fuchs-Young, R., and Hursting, S.D. (2009) Exercise effects on tumorigenesis in a p53-deficient mouse model of breast cancer. Med Sci Sports Exerc. 41(8): 1597-1605.
King, D., Miranda, P., Gor, B., Fuchs-Young, R., Chilton, J., Hajek, R., Torres-Vigil, I., HernandezValero, M.A., Snipes, S.A., and Jones, L. (2010) Addressing cancer health disparities using a global biopsychosocial approach. Cancer.  116(2): 264-269.
Fuchs-Young,R., Shirley, S.H., Lambertz, I., Colby, J.K., Tian, J., Johnston, D., Gimenez-Conti, I.B., Donehower, L.A., Conti, C.J., and Hursting, S.D. (2011) P53 genotype as a determinant of ER expression and tamoxifen response in the MMTV-Wnt-1 model of mammary carcinogenesis. Breast Cancer Res Treat. 130(2): 399-408.  2010 Dec 30. [Epub ahead of print]
Tian, J., Berton, T.R., Shirley, S.H., Lambertz, I., Gimenez-Conti, I.B., DiGiovanni, J., Korach, K.S., Conti, C.J., and Fuchs-Young,R. (2012)  Developmental stage determines estrogen receptor alpha expression and non-genomic mechanisms that control IGF-1 signaling and mammary proliferation in mice. J Clin Invest. 122(1): 192-204.  2011 Dec 19. [Epub ahead of print]
Tian, J., Lambertz, I., Berton, T.R., Rundhaug, J.E., Kiguchi, K., Shirley, S.H., Digiovanni, J., Conti, C.J., Fischer, S.M., and Fuchs-Young, R. (2012) Transgenic insulin-like growth factor-1 stimulates activation of COX-2 signaling in mammary glands. Molecular Carcinogenesis, In Press.  2011, Oct. 17. [Epub ahead of print]